Archived Stock - This item is no longer available
An enormous English gilded fibreglass globe,
removed from Sea Containers House, Southbank, a London landmark,
the vast finial, horizontally lobed, raised on a steel pin and plate,
In stock
Sea Containers House is located towards the eastern end of London's South Bank cultural area, Southwark. A continuous river-side walkway, actually part of the Thames Path, passes in front of and below the building, and links it with near river-side attractions such as the Festival Hall, the National Theatre, the Tate Modern, the Oxo Tower and the Globe Theatre. Sea Containers House was originally conceived as a luxury hotel.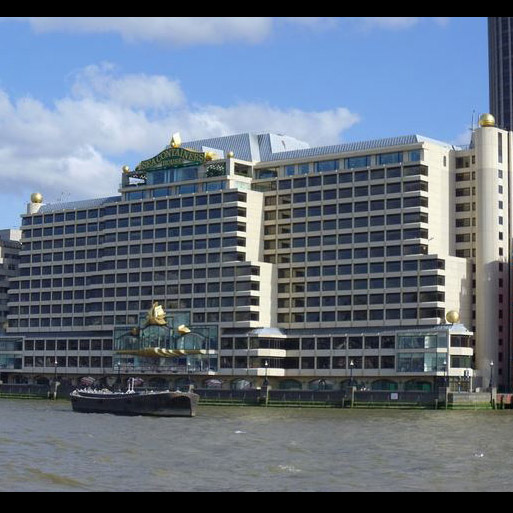 Its location near to the City of London led to the decision to complete it instead as office space. Its name comes from the former long-term tenant, Sea Containers. In Spring 2011, a process began to gain planning permission for an extensive internal and external refurbishment of the building. The east and west wings, which face the Thames, remaining as offices, with global advertising and marketing agency Ogilvy & Mather moving in August 2015. While the south wing has been renovated as the Mondrian Hotel London, bringing at least part of the building back to its original intended use.