At LASSCO Three Pigeons we're just unpacking hundreds of beautiful Dutch tiles. Most of these boxes have been quietly stacked, forgotten, at the back of a warehouse in Northamptonshire since the 1930's. We have acquired a wonderful cross-section of the stock. Many of the designs are by L.E.F. Bodart who was a celebrated ceramicist working for De Porceleyne Fles. in Holland – the most important of the Delft ceramic manufacturers. Bodart wares – his Art Deco vases etc. have become sought after and fetch good prices in the salerooms. His tiles were his bread and butter.
The consignment of tiles, all imported by "A. Bell Ltd" of Northampton falls into two categories: Bodart's 1930's designs on one hand, and, Traditional Delft "tin-glazed", tiles to 16th Century patterns on the other – all hand-painted. If you are looking to create a splash-back, a feature wall, a fireplace interior, a back-bar, or – if like us – you just love leafing through fantastic tile designs – click here. There are plenty more individual designs that will be sold without making it on-line. You'll have to come and see us for those – they make wonderful Christmas presents.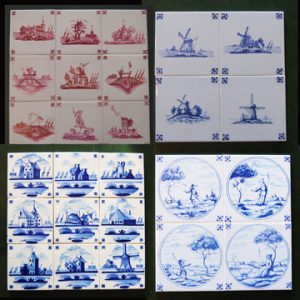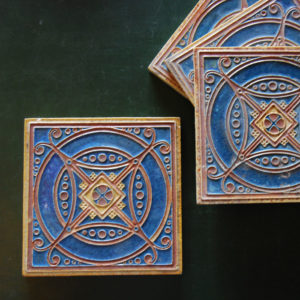 "A.Bell Ltd" had been founded by Ablett Bell in 1898, and rapidly became a successful ironmongery and homewares retailer in Edwardian Northampton. In 1910 they became Britain's sole importer of Delft tiles and in 1923 pioneered the fully tiled fireplace that was to become so ubiquitous in mid-century Britain. Occupying several premises in Northampton they also took a retail space in Berners Street, Westminster.
For Opening Hours at LASSCO Three Pigeons over Christmas & new Year and directions to find us: click here.