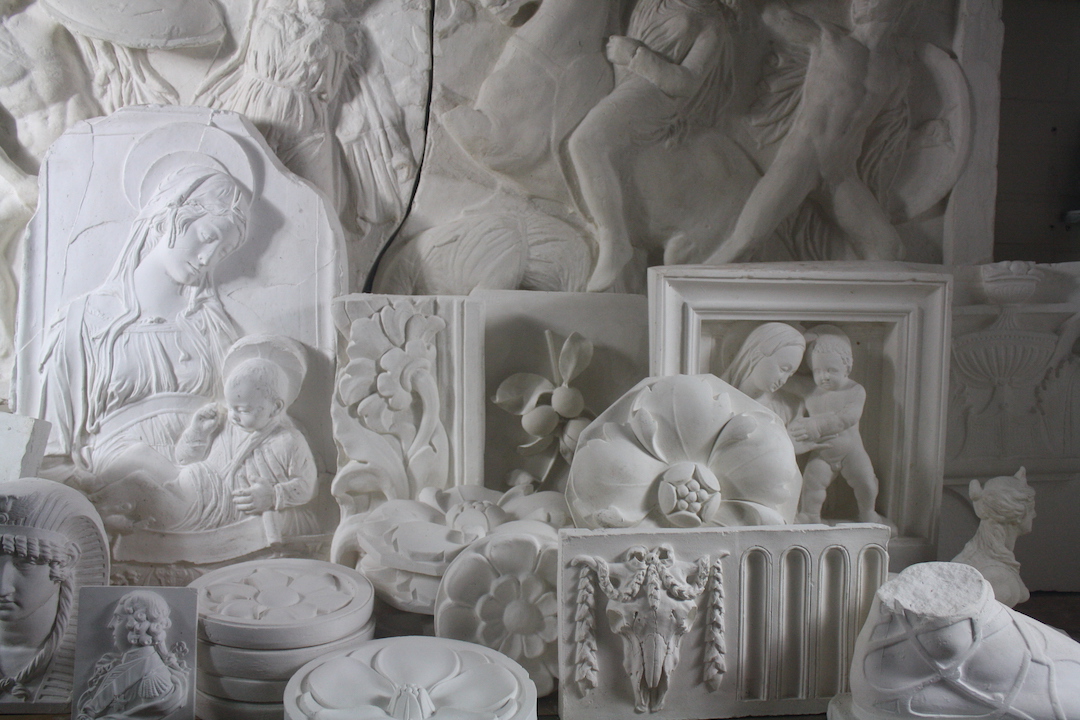 Plaster Castings
We cast a wide range of our own plaster ornament in our Oxfordshire workshops: relief plaques, floral roundels and masks, as well as more architectural casts such as keystones, pilasters and capitals. These sculptural pieces are always available and most can be sent by post – start your collection here.
155 items found
Page 1 of 13
A Bedford Square door surround,

£

5,800

in plaster

A Bedford Square door surround,

a set, comprising blocks, voussoirs, imposts and a keystone, cast in relief, can be cast to order as rectangular and tapered plaques as required - and available either in plaster or Composition Stone, the latter for external use, is more expensive to produce - please request a quote; each plaque with the repeated stylised fissures and undulations of limestone, in the manner of Renaissance rusticated architectural courses and grottos,
Featured Items
Mid-twentieth century French aluminium baker's rack,

£

975

An English plaster bust of the Emperor Vespasian,

£

980

George III style white marble and inlaid chimneypiece,

£

7,500

Brunswick lace panel

£

336

per panel

Brunswick lace panel

Handloom weaving was brought to the Irvine Valley, Scotland, in the late 16th century. The craft of lace making was later introduced to the area in 1876 followed shortly by the invention of the power loom in 1877. Lace and Madras weaving continued to flourish there until the late 1970s. The struggle for companies to compete with the distribution of emerging European and Asian economies had a profound effect on the Scottish textile industry. Fortunately these patterned lace panels continue to be woven in Scotland on some of the last remaining Nottingham lace looms in the world. The manufacturing process is extremely labour intensive; the looms run at a very slow, controlled pace so as to give a high level of quality control. LASSCO has been working closely with the weavers to develop a unique collection of lace panels. These patterns were selected for use in, and especially woven for, the Saloon at Brunswick House, the 1758 Georgian Vauxhall home of the Duke of Brunswick that is now the LASSCO 'flagship'. With authentic Gainsborough patterns appropriately reminiscent of the Vauxhall Gardens style, the lower edges are worked in embroidered scallops. Currently two in stock.