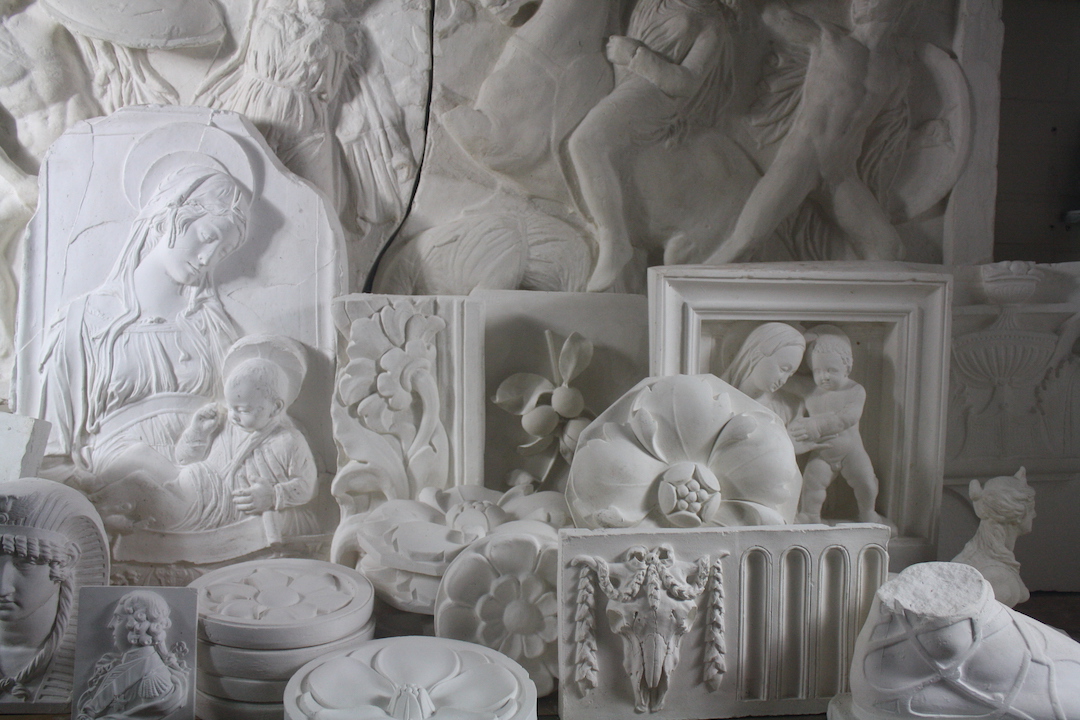 Plaster Castings
We cast a wide range of our own plaster ornament in our Oxfordshire workshops: relief plaques, floral roundels and masks, as well as more architectural casts such as keystones, pilasters and capitals. These sculptural pieces are always available and most can be sent by post – start your collection here.
166 items found
Page 1 of 2
'Supper of Trimalchio' or the visit of Dionysos and his companions to the house of a mortal.

£

1,275

'Supper of Trimalchio' or the visit of Dionysos and his companions to the house of a mortal.

The original marble relief from which this cast is taken is dated by the British Museum as early 1st Century Roman and is a copy of an earlier 2nd Century BC Hellenistic Greek original. Rediscovered in the early 16th Century it was first housed in the Casa Maffei before moving to the Villa Montalto, the palace of Pope Sixtus V, the great re-builder of Renaissance Rome. It was purchased and brought to England by Charles Townley in the late 18th Century where Townley had it mounted above the fireplace of his library at No. 7 Park Street, Westminster, while his agents sought out a buyer. Townley was to describe it as the 'Supper of Trimalchio'. It was eventually purchased by the British Museum in 1805 as part of what became known as the Townley Marbles. Dominico Brucciani - formatore to the South Kensington Museum is thought to have been responsible for taking a cast of the plaque in the late 19th Century. LASSCO salvaged a Brucciani cast from a City of London building and from this we have made the present casting. A Brucciani casting can also be seen in the Ashmolean Museum cast collection in Oxford. The scene depicts Bacchus and his retinue of Satyrs attending upon a mortal figure, possibly a poet, formerly identified as Ikarios (see Apollodorus, III.xiv.7). In the upper division appear a large temple of Bacchus and various other mystical representations. The plaque is particularly noteworthy in being a rare depiction of Classical domestic architecture.