"Where do you get all this stuff from?". "Who is going to buy that?"…. are recurring questions we are asked at LASSCO.

Sometimes we can tell you the whole story: both where something came from, and where it ended up. This is the second of these Lockdown ramblings (the first was "The Tale of the Asylum Railing"). It is a story of many parts and incorporates the Birth of Cycling and an Indonesian volcano.
The 12th Johnson Hobby Horse
Our favourite digger-driver, Martin, working on re-laying the tarmac at LASSCO Three Pigeons' car-park a couple of years ago, sidled into our office during his tea-break and mentioned, rather apprehensively, that he had something in his garage, a curiosity, that may be of interest. He explained, that on a previous building contract involving the clearance of a barn somewhere near Uxbridge, he'd spotted a light-weight curvi-linear oak beam being chucked-out. He had rescued it. It had iron forks for wheels, now missing, and he thought it was the frame of quite an early bicycle.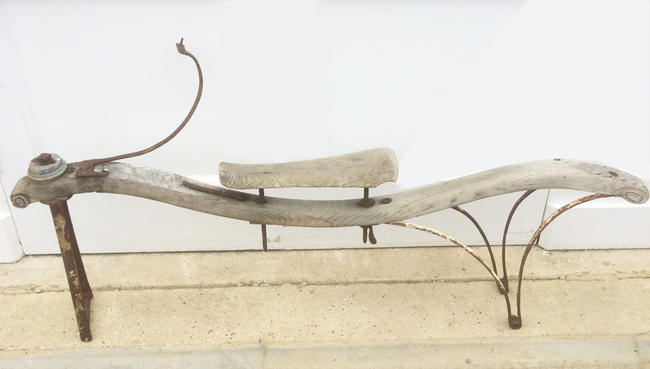 He brought it in the following week. He was right. But neither of us at that stage realised what a rarity we were holding. Whilst it appeared intriguing, the bike frame was disappointingly incomplete. A sinuous weathered oak bar, with a long saddle bolted to the dipped centre section, scrolled at the end, nicely carved, tell-tale straight spokes for wheels – the wheels sadly lost – and other truncated iron armatures.
This, it turned out, was the frame of one of the earliest bicycles ever made. It was designed and built by coachmaker Dennis Johnson (c.1760-1833) whose workshop was at No.75 Long Acre, Covent Garden. He made it possibly as early as 1816 – what might be considered "Year 2" of cycling, but probably not as late as 1819. His design was a re-interpretation of Baron Karl von Drais' "Draisienne", the velocipede that the German inventor (1785-1851), had brought to the world in 1815. It was the first time that anyone had come up with the idea of setting two wheels in line, steering one, and scooting ahead whilst balancing: cycling. Johnson's was the more elegant machine – lighter, more flexible and stronger: his coachmaker skills were beautifully applied to this brand-new form of transport.
The "Hobby Horse" or "Dandy Horse", as Johnson's "Curricle" or "Pedestrian Accelerator" became known, was a big hit in on the pathways, parks and pavements of Regency London and many other cities – including Milan, New York and Calcutta – so much so, that by 1820 all of these cities, and others, had banned the riding of them on pavements; they had become a dangerous nuisance.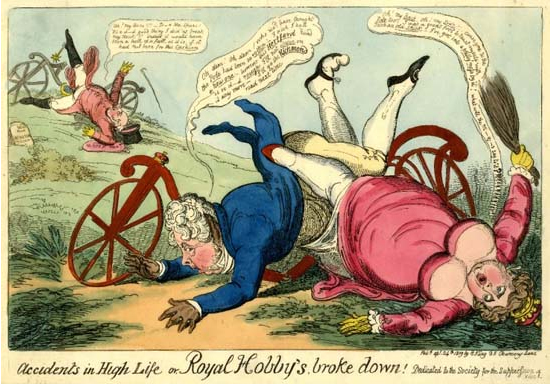 The Dandy Horses are best remembered through the prints from caricaturists that ridiculed the riders of them. One of the most published of these was Robert Cruikshank (an early-adopter of the Dandy Horse himself, as his studio was a few doors away from Johnson's Long Acre workshop). Cruikshank had come-a-cropper on Highgate Hill in a serious Dandy-horse collision with another rider – his publisher Sidebotham. The latter was seriously hurt (and later died from his injuries).
So, having come to a mutually agreeable deal with Martin the digger-driver – a share of the proceeds of selling it would result – it was easy to find some of the many Regency cartoon images of Johnson's Hobby Horse in action (over eighty are known). However, finding other comparable examples of actual surviving Johnson Dandy-Horses was much more difficult. There are numerous cycling museums around the world; a few have replicas of this pedal-less proto-bicycle, but we could find barely any examples of original Johnson machines themselves and certainly none that had come to market.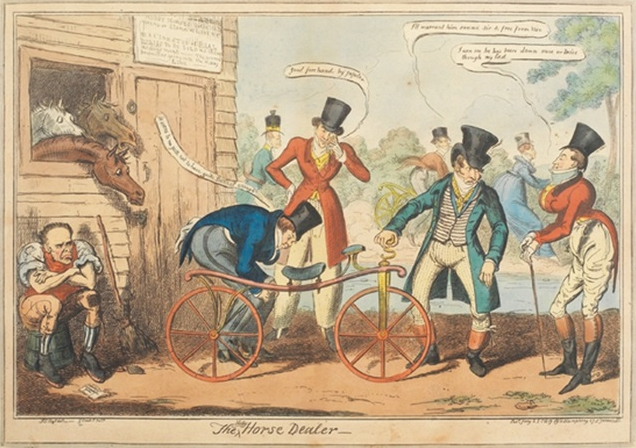 There is a notable collection of historic bicycles held just down the road from LASSCO at Benson in Oxfordshire: The Ned Passey Vintage Bicycle Collection – curated by Ned since 1950. I made an appointment and arrived – propping our decrepit Hobby Horse on Ned's doormat for when he opened the door. He emerged into the hallway on sticks. Ned was in his 96th year but on seeing the hobby horse his eyes lit-up and he straightened; he visibly shed a couple of decades (and his sticks) then and there. There is nothing that Ned didn't know about early bikes and the very sight of this most rare of finds got him excited.
It was a privilege that afternoon to have a tour of Ned's wonderful collection. Even his bedroom had three penny-farthings. He got out his photo albums. But Ned and his daughter were unsure about making an acquisition; it was undoubtedly a big undertaking – especially in terms of the restoration. We left the offer open. It is sad to report that whilst it may have been the only Johnson Hobby Horse that Ned had been offered in his long life, building and curating his museum, it was certainly the last – Ned passed away the following summer. He is much missed at the annual Benson Vintage Bicycle Rally that he founded in 1960.
Research unearthed other Collectors and Museums and they we contacted, but there was one we already knew: Glynn Stockdale. He would be interested. Glynn is founder of the Penny Farthing Museum, Knutsford and we had previously met him at LASSCO when he'd dropped in one day. (He had told us about "The Great Race", the Penny Farthing street race in Knutsford that he had initiated in 1981, so dangerous that it is repeated only once every ten years; the fifth will be held in 2021 – don't miss it). Glynn was very excited and rushed down from Cheshire immediately.
***
By 1820, when the "Dandys", the toffs of London, Paris, Milan New York and Calcutta had tired of the Dandy-horse, the fad was quickly over. They had injured themselves, worn out their boots, broken the forks, blistered their bums and been laughed at. And as we know, they had been banned from the smooth city pavements – consigned to the cobbles. The Hobby-horses, were binned, burned, broken-up, sold – or despatched to the country estate where they were shoved in a barn somewhere or under the stairs. The craze was all but forgotten and "cycling" wasn't to re-emerge for another few decades. Johnson's "Pedestrian Accelerators" and Von Drais' "Draisiennes" were considered anachronisms – explaining why they are so rare to find today…
"…the small output and the short season of popularity underlines that, had it not been for the publicity provided by the cartoonists that very little of the brief hobby-horse craze would be remembered today"
… says Nick Clayton in "The Birth of the Bicycle". But this begs a question: If the Hobby horse was seemingly redundant other than for cavorting about the park, impractical in the first place (yet without cranked pedals, chain drive or pneumatic tyres), and abandoned soon thereafter: why did the invention of the bicycle, some 5500years after the invention of the wheel, happen at all and why did it happen when it did?
The catalyst, bizarrely, is found in a volcano in Indonesia: Mount Tambora.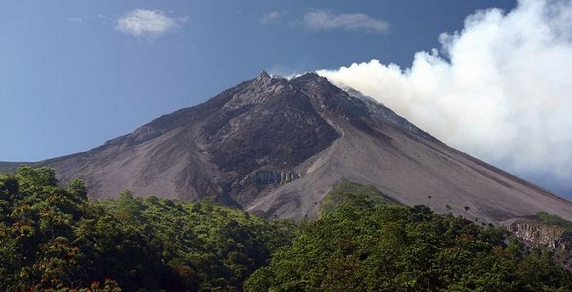 On 10th April 1815 Mount Tambora blew up. This volcanic explosion was off-the-scale. Ten times bigger than the notorious Krakatau eruption in 1889 it remains the biggest in the last 10,000years. After a week of rumbling, the top third of the 3mile high mountain was jettisoned with a bang so loud that it was heard 600miles away. Over 100,000 people of Java and the wider Dutch East indies were killed in the initial event – with its accompanying shock-waves, pyroclastic flows, tsunamis, and ash-falls. The ash fell a metre thick on islands even 100 miles away.
Of course, some European travellers did variously witness, hear, see and suffer the initial eruption and in time reported the event when they returned home (the telegraph wasn't invented until 1844). But what they didn't know was that the force of the explosion sent 50 cubic kilometres of volcanic dust high into the stratosphere, an invisible cloud that was to spread across one million square kilometres of the Earth's atmosphere. The cloud was to result in sudden and significant global climate change with devastating effects, but it has long been absent from history as an explanation for the catastrophic climate change it created. The severity and reach of its impact, that lasted three or so years, has only been realised since the 1970's.
The ash-cloud blocked the sun, or at least filtered it, cooling the planet. In "Tambora" by Gillen D'Arcy Wood, the author analyses the evidence. His far-flung references include the dedro-analysis of old tree-rings in New Hampshire (showing a unique "zero-growth" in 1816), and the film of sulphurous dust only now extracted and recognised in deep layers of both Greenland and Antarctic ice-core samples corresponding to the Tambora years. Moreover, from the same sources it has emerged that there must have been a similar, if smaller, volcanic event in the Tropics in 1809 – the exact location of that one is not known. The two volcanos, the second amplifying the first, resulted in the coldest decade on record.
We will get back to the birth of cycling shortly.
Within weeks of eruption in 1815, the Tambora dust-cloud shaded the Bay of Bengal. With weakened solar energy, the monsoon was stalled. The seasons were thrown into reverse: untimely floods, then drought, then famine. Similarly, further east, in the Yunnan province of South West China, the paddy-fields were wiped-out. Famine there, then Cholera took hold.
A few more weeks and the Tambora dust-cloud in the stratosphere had reached Western Europe. Average temperatures dipped. The summer of 1816 never arrived. Crops failed. In Switzerland, the Alpine snows refused to melt. That June, Mary Shelley, holed up in Lord Byron's grandiose Lake Geneva rented villa – under dark skies, wild electrical storms and endless rain – was inspired to compose "Frankenstein". In England JMW Turner was enthralled by the lurid sunsets and tempests that the volcanic dust produced. In Ireland, the first major famine of the 19th Century was to grip a desperate population as the un-relenting rain destroyed the potato and arable harvest of 1816 and 1817. Typhus followed there with terrible consequences while the Eastern seaboard of the United States fell victim to a "summer" of deep snow, violent storms, crop failure and starvation. The season became known as "The Summer that Never Happened", the year as "Eighteen Hundred and Froze-to-Death".
The German arable harvest of 1816 was down by a catastrophic 75% and it was just as bad the following year. And they knew nothing of the volcanic cause of the climate change half a world away. They didn't know when the biblical weather, or the hard times, might end. The European populations were hungry and they couldn't feed their animals either as the price of both grain and oats rocketed. If horses could not be fed – they were sold or butchered. So the European horse stock, having just endured the Napoleanic wars, was severely depleted – the stables were rather empty.
So, at last we're there. Baron von Drais, son of a nobleman judge near Baden in Germany, with quite a catalogue of diverse inventions under his belt, had already set about devising a way for horse-less locomotion… the Velocipede. Now was his great marketing moment. Necessity was, as usual, the Mother of Invention and the catalyst for the take-up of this invention, potentially revolutionising transport, was climate change. It is a notion that today all sounds rather familiar.
Von Drais set out to prove the worth of his "Draisienne" with a series of publicity stunts, there-and-backs in record time, first in Germany then Paris. News of this invention spread fast – to Bath and then to Dennis Johnson in Covent Garden. As a coach-maker, already used to having to contend with the terrible, rutted, unmetalled roads, Johnson knew he could do better in terms of design and build.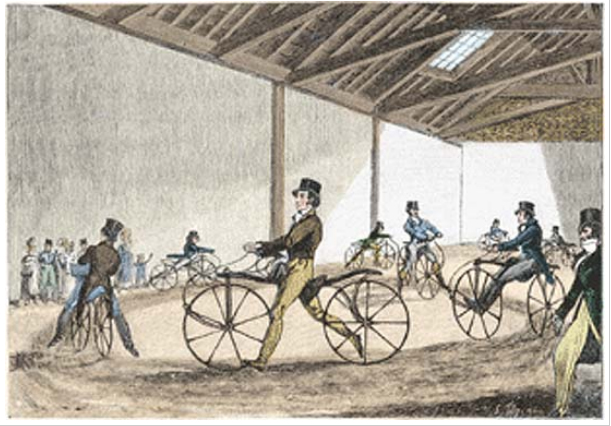 He certainly caught the mood and offered "Curricle" riding lessons in an indoors gallery near his workshop – as the rain beat down above. The surprising trick of balance, and the whiff of expensive, faddish, novelty – beloved of the Dandy – propelled his sales. His machines were beautifully made, smartly painted, and in time each one was numbered.
Ultimately however, it was a short-lived experiment. By 1820 the ash-cloud had dispersed, the climate warmed, the weather settled, the crop yields dramatically recovered, the price of oats and livestock came down and the toffs got back on their horses.
***
When Glynn Stockdale got his hands on the LASSCO hobby horse he didn't hesitate – he flipped it over and scoured the underside of the crossbar, looking for the incised number. Out came the magnifying glass: damn, nothing. Then he looked at the fixtures and fittings. Everything was right: the flared butterfly-nuts and hand-made thread of the rusted saddle adjusters, the pin-holes where the saddle upholstery was secured, traces of paint in the correct livery, iron armatures of the proper cross-section. All these point to an earlier hobby horse (Johnson had later improved upon the early steering mechanism – the whippy curved rods descending to the front forks found here were, in time, replaced with a more sturdy T-bar). Glynn concluded that we may have been looking at a very early model – even before Johnson patented his design in 1818 and started numbering them. Either way, it was, he confirmed, a Johnson Dandy Horse and he had to have it.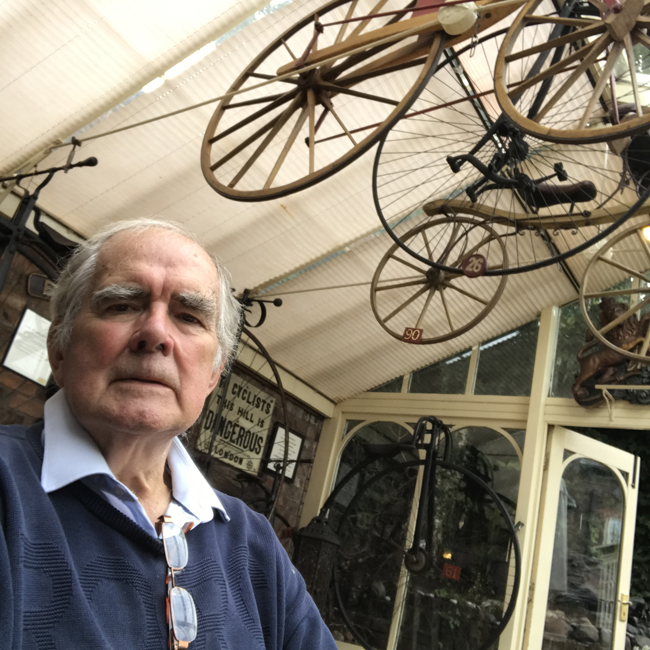 We arranged a second meeting, this time in Cheshire, in order to wrap up the deal. A tour of Glynn's own extraordinary bicycle collection was included and then lunch at his restaurant in Knutsford where the Penny Farthing Museum collection is on display. We were surrounded by Ordinaries, Bone-shakers and Safety bicycles: hung in the rafters and lining the walls. And Glynn showed me the replica Johnson machine he had made from scratch, a few years previously. He had built it, a faithful copy, after his own discovery of another of Johnson's rare originals in the basement of Tapley Hall Cheshire.
The Tapley House Johnson Hobby Horse – tucked under the stairs.

"Hang on, you've previously found another?!" I asked, slightly deflated, "Given the craze was so short-lived and faddish: how many did Johnson make? And how many do you know to have survived?".

Glynn replied, "From the numbering we suspect he made at least 320 of them but not too many more than that. Very few survive – I have kept records of each one that has. The one I discovered at Tapley Hall, numbered "100", was only the 11th known survivor. The one I just bought from you is the 12th to have turned up. It's a very rare thing but a shame that it is so incomplete. If you like we could go and see the one I found at Tapley?".
Glynn phoned ahead and we drove in convoy to the Palladian mansion near the M6.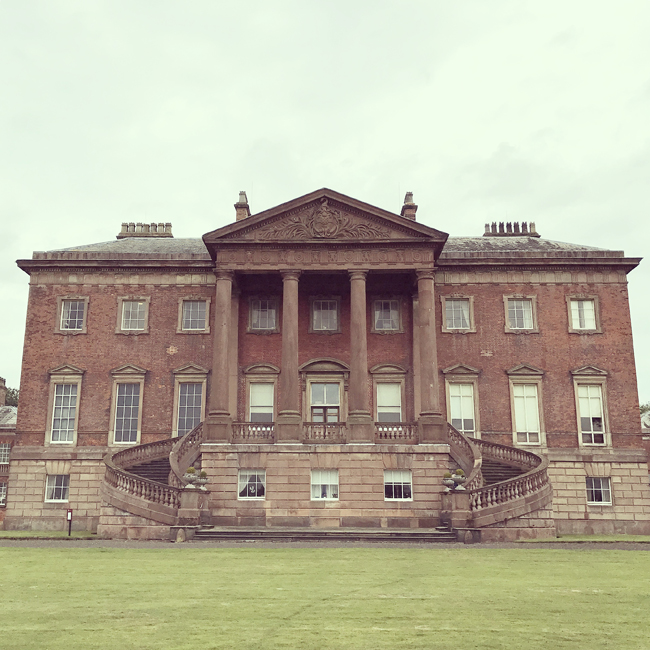 At Tapley we were warmly received and allowed to make our way down the grand staircase. There, quietly leaning up, tucked under the stairs, was the 11th Hobby-Horse. Glynn had indeed restored it beautifully. As its new owner, he was now going to carefully restore the LASSCO hobby horse too.
***
Glynn Stockdale's completed restoration, now at The Penny Farthing Museum, was later featured in the Daily Telegraph in January 2018. He says: "I have been a bike enthusiast for 40years and so to come across this really is the holy grail for me, it's what you always dream of finding, let alone owning. This bike is a real survivor and it feels just fantastic to have come across [it] after all my years of collecting."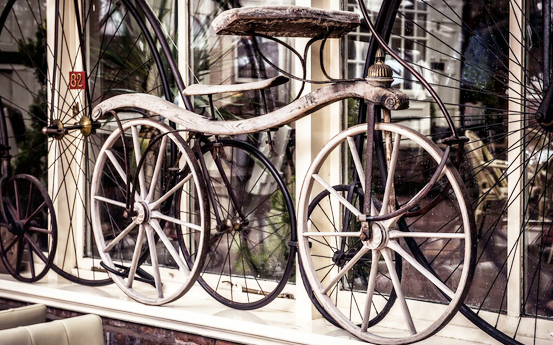 ***
Given the awful weather of 1816 it is perhaps not surprising that it was also the year that John Loudon McAdam first applied his new cambered road-building techniques and smooth surface to a muddy, pot-holed turnpike near Bristol. Perhaps, if McAdam's methods and materials had been adopted and improved upon more quickly, the Hobby horse – with a much more comfortable ride on smoother tarmacadam-topped roads – would have persisted and would have developed into cycling more readily. If that had been so, then original surviving Dandy-Horses would not be such a rarities today. But as Martin the digger-driver finished-off the smooth tarmacadam on our car-park, he was delighted to hear that the Dennis Johnson Dandy-horse he had rescued from the Uxbridge skip, had found a new home in Cheshire – the star of a revered collection and a rare survivor from a climate disaster exactly 200 years ago.
Anthony Reeve
LASSCO Three Pigeons