At LASSCO Three Pigeons we're enjoying a new look and a new shop in which to welcome our customers.
What was a tumble-down brick shed – shrouded in ivy with a leaky roof – is now a newly insulated shop "The Coach House". We have a new counter – well, as you'd expect, it's cobbled together from some nicely figured mahogany panelling (and turned out beautifully!). We have a new office behind the counter – dominated by part of the monumental Lutyens oak bookcase that we salvaged from the James Caird Library at the National Maritime Museum.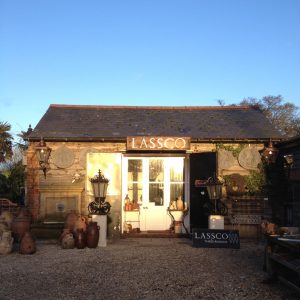 From here, a stone's throw from our erstwhile home in the main pub building, we're better connected with the main gate and our yard, we've ceded more space to the restaurant – which frankly needs it – they're getting very busy, and, it enables The Three Pigeons to function more readily as a pub restaurant in the evenings. (Ed and James are now serving their fabulous food on Thursday, Friday and Saturday evenings – details here).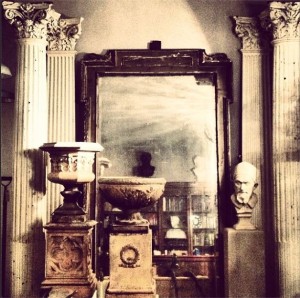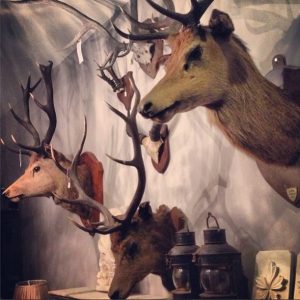 The Coach House seems to have the feel of a Hunting Lodge currently! That is more to do with an influx of Stag head trophies and antlers that we bought from a Scottish country estate just before Christmas. It will no doubt soon adopt a different look as the stock changes. It is of course all for sale.
Pictured Above (upper):
A Columnar screen comprising a pair of columns and pilasters ensuite – ex Knightsbridge,
A huge pier-mirror ex Downing Street,
A Victorian stoneware urn by Blashfield,
A Victorian stoneware urn by Pulham
A large glazed bookcase by Lutyens, from the James Caird Library at Greenwich (reflected in mirror).
Pictured Above (lower):
Selection of Stag trophies & antlers
Relief cast plaster plaques by Peter Hone.
…And if you would like to see what we started with, below two pictures of The Coach House in its original state!