A set of six English pine columns,
early 18th Century, removed from St.Giles-in-the-Fields, London WC2,
each column, turned from the solid with entasis and bearing original paintwork, four as pictured make a colonnade, a further two of less good condition continue the colonnade (not pictured)
£6,500
In stock
This set of columns were originally in the crypt of St.Giles-in-the-Fields. The church was one of the "Fifty New Churches Act" of 1711. Too far West to be taken by the Great Fire, the current structure by Henry Flitcroft, completed in 1733, replaced the early 17th Century precedent that had become structurally unsound due to the sheer quantity of burials undertaken in and around it. The parish of St.Giles was where the Great Plague of 1665 had first broken out; in one month alone, 1,391 burials were recorded there.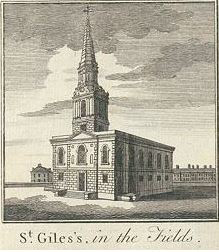 Flitcroft, the son of William III's gardener, prevailed in a competition to design the church ahead of James Gibbs, and Nicholas Hawksmoor.