Sir William McAlpine, 6th Baronet,  grandson of Sir Robert McAlpine, 1st Baronet "Concrete Bob" [1847 – 1934] , and Director of the great British construction firm that bears his grandfather's name, died at the age of 82 last week.
Bill, unsurprisingly, given his civil engineering experience was more a hands-on practical man than the nabob that his title might suggest. His library at Fawley Court was a remarkable resource of British engineering history. He was an expert in Architectural Salvage and had hosted SalvoFair at his estate in recent years.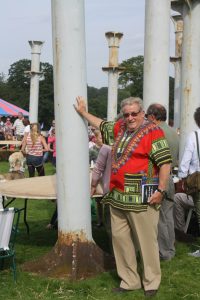 He was a preservationist sans pareil – his enthusiasm for steam railways was legendary and his private Fawley Hill railway, at his estate near Henley, was a remarkable achievement; its 1:13 gradient as it approached its terminus was not only the steepest on a UK railway but resulted in the most spectacular sight approaching, as it does, the terminal buffers at maximum power at the top of the incline. Quietly patriotic, he saved The Flying Scotsman from foreign ownership and was a leading light in many other railway conservation projects.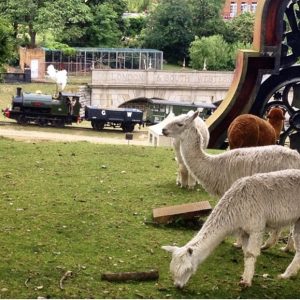 Bill's estate [described by Country Life as 'bonkers'], replete with Architectural Salvage, was notable for the presence of the colourful spandrel rescued from the London Chatham and Dover Railway Blackfriars Bridge [Invicta, its motto being that of the County of Kent, 'unconquered' by William of Normandy] – and the presence of many exotic creatures rehomed from the London Zoo of which Bill was a trustee. He explained that these animals were so fecund that they were doomed to be culled; so he gave them an agreeable retirement in Oxfordshire.
The most affable and generous of hosts, he was a long term friend of LASSCO, and he will be sorely missed by us all.
We send our commiserations to his widow Judy, Lady McAlpine, his family and clan – it is to be regretted that his like will not be encountered again.