LASSCO has acquired a gross of Afghan saddle bag Soumaks and Kilim textiles and now invites our customers to put them to creative and decorative use.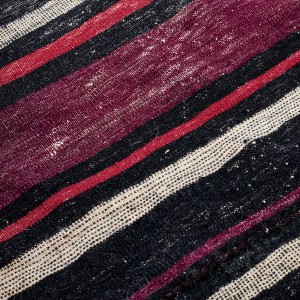 In Your Garden
"Each of the flowers in your garden is brighter
than a lamp;
In your garden a black crow becomes like a
phoenix for me.
For Rahman there is no contentment without the
beautiful."
Rehman Baba 'Shakespeare of the Pashtuns' (Robert Sampson trans.)
The Kilim and the Soumak are two hardy rough-textured fabrics used throughout the Near East and Central Asia as light and attractive pieces of decorative furnishing. their uses range from simple cloaks and saddle bags to prayer rugs, divan coverings and decorative hangings.
The word Kilim itself is of Persian origin and means 'to spread roughly'. This reflects its pragmatically serviceable nature as a simple flat-woven alternative to more durable and intricately decorated pile rugs and carpets.
In a neat example of form following function, the nature of the weaving technique itself encourages, if not compels, the weaver to create clear, bold, distinctive patterns on the face of the textile. For this reason Kilims and Soumaks are largely defined by sharp contrasts of colour and geometric or banded forms.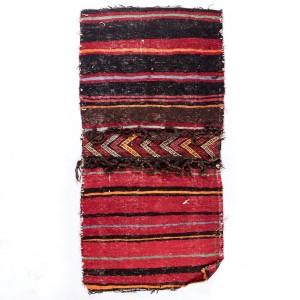 Kilim weaving largely employs the slit weave sub-technique of flat weaving. The contrasted bands of colour are packed on the weft to tightly cover the warp and therefore rigid patterns are favoured – so as to avoid weakening the structure of the rug with vertical slits. The Soumak avoids the slit weave technique of the Kilim and instead doubles up with supplementary weft threads thereby toughening the fabric and enhancing its utility for rough handling, lending itself effectively to saddle use in the harsh and arid climate of Baluchistan and the Persian frontier.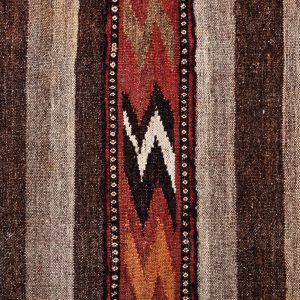 This tight bunching of the weave, along with the relatively light and yielding texture of the natural materials involved lends to a well used Kilim or Soumak an inimitable, hard-worn, rugged essence. The saddle bags and assorted fabrics acquired by LASSCO through our network of contacts in the Near East possess and express just this rare and desirable quality.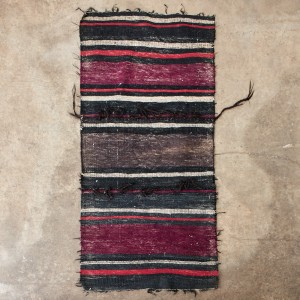 The cotton, woolen or animal hair Kilim and its hardier sister the Soumak are symbols of rare potency. Conjuring up visions of the Silk Road and the Central Asian world of Marco Polo and Rehman Baba. They have also demonstrably retained their practical integrity and thereby popularity amongst the peoples of the Central Asia up to the present day. Few examples of folk art can be said to possess such a synthesis of rare beauty and common utility.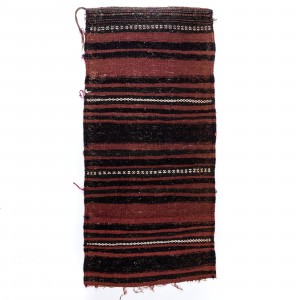 There is something undeniably evocative in the faded natural dyes and the worn woolen faces of the simple mule saddles and saddle-bags that LASSCO has acquired. To what use they can be put, we leave our customers to decide. Perhaps they are mere objects of rough beauty? Yet for Rehman Baba as for Keats there is no contentment without the beautiful.