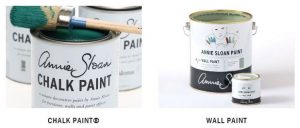 We are extremely pleased to announce that LASSCO is now a stockist of Annie Sloan paint. We have greatly enjoyed using her fabulous Chalk Paint product in many applications in the past – whether for restorations or room sets. Our customers already know the paint well – it is always being discussed in the shop. For us to supply it here is therefore a natural fit. It has started selling as soon as it came out of the boxes last week.
Annie Sloan first mixed her paint exactly 25years ago, only a few miles away from LASSCO Three Pigeons, in Oxford. "Chalk Paint" is a name Annie has Trademarked and it is sold and enjoyed worldwide. With a dense matt finish, it goes on with a thick, silky application and often needs no pre-preparation. It can be mixed or watered-down prior, it can be rubbed down after and then should be waxed. It is tough, versatile, eco-friendly and, with a characterful Chalk Paint finish, has long been a favourite of interior designers. There is a beautiful range of colours to choose from and "New!" much of the range is now available as "Wall Paint" – specially mixed for interiors, no need to wax after, it gives beautiful results.
Visitors to Annie Sloan's 25th Anniversary celebrations – her worldwide stockists flew in for the event last week – have been admiring architectural salvage supplied by LASSCO and utilised as a fantastic installation at the Annie Sloan headquarters. The "Wall of Doodads" was brought together from interesting off-cuts and curious architectural details found at LASSCO Three Pigeons. We laid it out as a collage on our warehouse floor, Annie cunningly re-worked it, composed it and worked out an innovative hanging system on her warehouse stair well.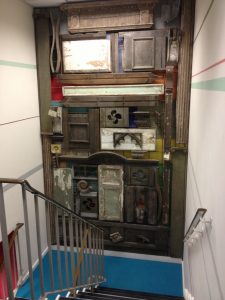 Annie Sloan Chalk Paint TM is available only at LASSCO Three Pigeons currently. Workshops run by our own Kim Sellers, investigating the various effects that can be created with the paint will soon be a regular feature … contact kim@lassco.co.uk for more information.
More information about the products we now stock, painting tips and tutorials can be found here on the Annie Sloan website.