LASSCO is delighted to offer for sale the original Victorian Westminster Bridge that was removed during the extensive restoration works carried out in 1997 – the first time that an historic London river crossing has been offered on the open market since John Rennie's Portland stone London Bridge of 1831 was sold by The Corporation of London to Robert P. McCulloch in 1968 – at 10,000tons undoubtedly the largest single item of architectural salvage ever shipped to the USA (That he thought he was buying Tower Bridge is a myth unfortunately!).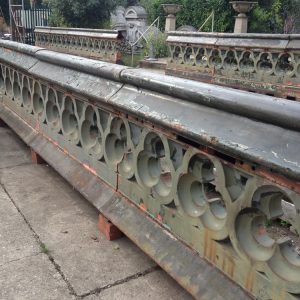 To buy the bridge ironwork, please "Enquire" via the entry in our catalogue here. It is offered as a single consignment.
Condition has been cited as the reason for the replacement ironwork – but this seems unlikely. A persistent rumour has it that shrapnel from Victorian iron was deemed to represent a threat to the Palace of Westminster in the event of a terrorist bomb attack.
The Victorian Westminster Bridge was built in iron by Thomas Page in 1854-62 using Sir Charles Barry as architectural consultant. Barry tied-in the Gothic ornament of his progressing Palace of Westminster to ensure that Page's bridge was harmonious with the Parliament buildings. The green coloration aimed to continue this link when it was adopted in 1970 – green for Westminster Bridge and red for Lambeth Bridge – an intentional nod to the respective schemes of the Commons and Lords chambers.
Westminster Bridge, as depicted in works by Monet and many others – and countless films – was constructed during a sustained and intensive period of bridge building in London as the city boomed. Westminster Bridge has been the most long-lived of them – all others from this era have, in time, been superseded.
Thomas Page had built the first Chelsea Bridge in 1851-8 – it was a suspension bridge with cast iron towers. He had previously worked under Brunel on the Thames Tunnel at Deptford.
A quantity of the massive balustrade will be on show at Salvo Fair 2015
The 300metre run of ironwork can be transported on 10 to 12 articulated truck loads.