This Thursday the UK holds a General Election. It hasn't been a gripping election campaign. Not like the old days. In the mid 18th Century William Hogarth had plenty to work with – in his "Humours of an Election", a series of oils – later engravings, he illustrates the election of a member of parliament in Oxfordshire in 1754. The paintings date to the following year and were eventually bought by Sir John Soane.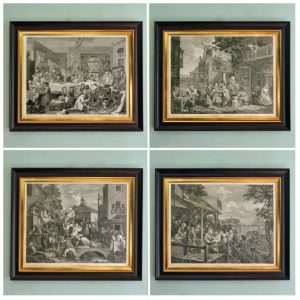 The first three paintings, "An Election Entertainment", "Canvassing for Votes" and "The Polling", demonstrate the corruption endemic in parliamentary elections in the 18th Century, before the Great Reform Act. The last painting, "Chairing the Member", shows the celebrations of the victorious Tory candidates and their supporters. We have a set of framed engravings for sale at Brunswick House (which, incidentally, was being built when Hogarth was working on the series). This set was printed by Thomas Cook in 1805.
In Hogarth's day, each constituency elected two MPs, and there was a property qualification for voters, so only a minority of the male population was enfranchised. There was no secret ballot, so bribery and intimidation were rife. See the footnote to the entry on our website; it gives some of the background to the chicanery that Hogarth depicted.