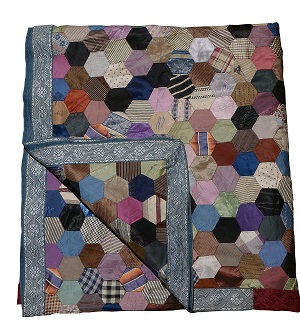 We spend a third of our lives asleep so it's understandable that quilts are usually associated with beds. But are they just pieces of craft work to sleep under or pieces of art to hang on our walls? Today many link the act of stitching together layers of fabric in patterns to make a type of blanket with southern US states.  But quilt culture is  being championed on this side of the pond by artists,  Tracey Emin & Grayson Perry as well as best-selling novelist Tracey Chevalier (currently curating Things We Do in Bed, a new exhibition celebrating the historic and contemporary art of quilting at Danson House).
  LASSCO Ropewalk has some fine vintage quilts in stock.
Image:  Victorian silk patchwork quilt (£500).
If this topic interests you try the unique V&A App – Quilts 1700 – 2010.