Perhaps the most pivotal scene of the film "Withnail and I", Bruce Robinson's 1987 cult masterpiece, is the visit of the two protagonists, a pair of hopeless and drunk out-of-work actors in 1969 London, to "Uncle Monty's" Chelsea house.
Their plan was to persuade the rather portly, extremely posh, lascivious and very mad middle-aged bachelor to lend them the key to his Lake District retreat. What follows is perhaps one of the best-written and most-quoted scenes in cinema.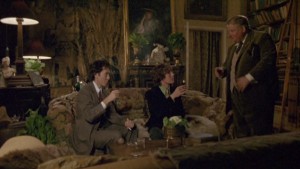 The library bookcases from the wonderful and exuberant interior in which the scene unfolds are now for sale at LASSCO Brunswick House. In terms of film memorabilia there can't be a better bookcase – the celebrated film, re-mastered and re-released, is screening in cinemas this weekend – but the bookcases themselves have quite a history.
The film set for Uncle Monty's library was not created, it was shot in the Chelsea house of Professor Bernard Neville "as furnished". West House (formerly Glebe House) was designed in 1876 by Philip Webb (1831-1915) to a commission by George Price-Boyce an artist and joint founder of the Pre-Raphaelite brotherhood. (Webb, one of the most revered Victorian architects had previously designed The Red House for William Morris). West House was one of a select group of what were usually red-brick Queen Anne style "artist houses" that flourished in West London in the 1870's. Artists Sir James Guthrie and E.A.Walton were later occupants of West House after Price-Boyce. Professor Neville bought it in 1970.
The bookcases were not original to Webb's scheme however – they were salvaged and installed by Professor Neville long prior to it being used for the "Withnail & I" film-shoot in 1986. They had come from the Old Conservative Club at St. James's Street built by Sydney Smirke and George Basevi 1843-45.
The Survey of London records the Old Conservative Club in some detail and notes the interior fixtures and furniture:
"All the woodwork is of oak and so was the furniture, a great deal of which was contemporary with the building and of considerable distinction. It was designed by Henry Whitaker, one of the small chairs and the long tables supported by pairs of griffins being illustrated [in] his book, "The Practical Cabinet Maker and Upholsterer's Treasury of Designs, House-Furnishing and Decorating Assistant, 1847."
Whitaker is known to have made furniture for an impressive array of clients including Queen Victoria for Osbourne House and The Dukes of Devonshire and Northumberland.
The Survey continues:
"The library is divided in the same manner as the dining-room below it, this time by square, panelled Corinthian columns on pedestals. The doors are of mahogany but the bookcases and other woodwork are of oak, and even the heavily beamed ceiling is grained in imitation. The columns and their pedestals are of multi-coloured scagliola with gilt mouldings. The chimneypieces are of a yellowish-green marble with mirrors above them in pedimented wooden frames."
The Old Conservative Club eventually merged with the Bath Club and they moved to Brook Street – the doors finally closing to members in 1981 at which point it was let for offices. It is probably at this point that Professor Neville acquired the bookcases. The grand marble staircase was also taken down. The building is now a bank.
There were half a dozen marble chimneypieces in the library, with mouldings matching the bookcases, in fact a Connemara marble, and one of these was salvaged and rebuilt with the bookcases in the West House library. Recent renovations that restored much of the house to Webb's original scheme have resulted to the bookcases once again being surplus to requirements.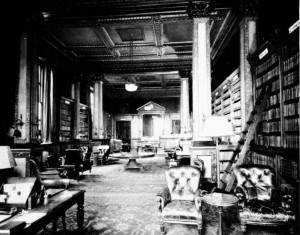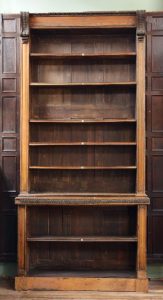 The bookcases are for sale at LASSCO Brunswick House, click here and here, for the many who can never get enough of "Withnail & I", the script of that scene in Uncle Monty's Library:
Monty's house
[A battered Jag pulls up outside Monty's house and Withnail and I get out.
There is a rather flash looking open-topped Rolls parked outside. The sound
of a Schubert piano sonata comes from the house.]
Withnail:
Monte's car.
[Withnail knocks on the door. Monte, a rather fat, effeminate, middle-aged
gentleman, opens the door. He is holding a very large fluffy cat and a
watering can.]
Monty:
Oh hello. Come in.
[They enter and go into the lounge.]
Monty:
Sit down do. Would you like a drink?
[They sit together on a sette.]
Withnail:
Sherry!
Monty:
[To withnail] Sherry. [To I] Sherry?
I:
Sherry.
Monty:
Sherry.
[Monty moves to the sideboard and pours the drinks. Withnail lights up yet
another cigarette.]
Monty:
Do you like vegetables? I've always been fond of root crops but I only
started to grow last summer. I happen to think the cauliflower more
beautiful than the rose.
Withnail:
Chin chin.
[He drinks the sherry.]
Monty:
Do you grow?
Withnail:
Geraniums.
Monty:
Oh you little traitors. I think the carrot infinitely more fascinating
than the geranium. The carrot has mystery. Flowers are essentially
tarts. Prostitutes for the bees. There is you'll agree a certain je ne
ses quoi oh so very special about a firm young carrot. Excuse me. Do
help yourselves to another drink.
[Withnail turns and reaches a bottle over from the sideboard. He takes a
long swig. ]
I:
What's all this. The man's mad.
Withnail:
Eccentric.
I:
Eccentric? He's insane. Not only that he's a raving homosexual.
[There is a yowl from the cat. Monte storms back into the room preceded by
the cat.]
Monty:
You beastly little parasite. How dare you? You little thug. How dare
you? Ooohhhh. Beastly ungrateful little swine.
[He deposits his considerable bulk on the other settee, facing the first.]
Withnail:
Shall I get you a drink Monte?
Monty:
Yes. Yes please dear boy. You can prepare me a small rhesus negative
Bloody Mary. And you must tell me all the news. I haven't seen you
since you finished your last film.
[I smiles wriley to himself. Withnail downs the drink he has prepared for
himself, pours another and starts making the Bloody Mary for Monty.]
Withnail:
Rather busy uncle. TV and stuff. My agent's trying to edge me towards
the Royal Shakespeare again.
Monty:
Oh splendid.
Withnail:
He's just had an audition for rep.
Monty:
Oh splendid. So you're a thespian too?
[Withnail delivers Monte's drink and sits beside him.]
Withnail:
Monte used to act.
Monty:
I'd hardly say that. It's true I crept the boards in my youth but I
never had it in my blood and that's what so essential isn't it?
Theatrical zeal in the veins. Alas, I have little more that vintage
wine and memories.
[He stands and looks at a photograph on the mantlepiece.]
Monty:
It is the most shattering experience of a young man's life when he
awakes and quite reasonable says to himself: [He puts his hand on his
heart] I will never play The Dane. When that moment comes, ones
ambition ceases. Don't you agree?
Withnail:
A part I intend to play, Uncle.
Monty:
And you'll be marvelous. [He starts quoting from Hamlet] We do it
wrong, being so majestical. To offer it the show of violence……
[As Monte rambles in the background I steps over to Withnail and whispers.]
I:
He's a madman. Any moment now he's going to rush out and get into his
tights.
Withnail:
Ok ok. Give me a minute.
I:
The house or out.
[Withnail stands and moves over to Monte.]
Withnail:
Could I have a word with you Monte?
Monty:
Oh forgive me dear boy, forgive me. I was allowing memories to have
the better of me.
Withnail:
Shall I get you a top up? [He moves to the sideboard again. Monte sits
down and reminisces.]
Monty:
Indeed I remember my first agent. Raymond Duck. Dreadful little
Israelite. Four floors up at the charring cross and never a job at the
top of them. I'm told you're a writer too. Do you write poems?
I:
No, I wish I could. It's just thoughts really.
Monty:
Have you published?
I:
No no.
Monty:
Where did you school?
Withnail:
He went to the other place Monte.
Monty:
Oh you went to Eton?
[The cat reappears on I's chair.]
Monty:
Get that damned little swine out of here. It's trying to get itself in
with you. It's trying for even more advantage. It's obsessed with its
gut – its like a rugby ball now. It will die, it will die!
[He storms around ineffectually.]
Withnail:
Monte, Monte.
Monty:
No dear boy you must leave, you must leave. Once again that oaf has
destroyed my day.
Withnail:
Listen Monte. Can I just have a quick word in private.
Monty:
Oh, very well.
[Later they are leaving the house. Monty shows them to the door.]
Monty:
Good night my dears.
Withnail:
Good night Monty.
[Monty closes the inner door to the porch behind them.]
I:
What's all this going off in private business? Why did you tell him I
went to Eton?
Withnail:
Because it wouldn't have helped if I hadn't.
I:
What do you mean by that?
Withnail [Showing him the key to the cottage.]:
Free to those that can afford it. Very expensive to those that can't.
***
…cue…Jimi Hendrix and scenes of the wholesale destruction of London Georgian terraces with wrecking balls …