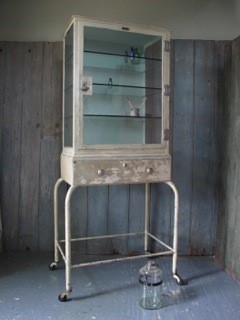 1920s steel medical cabinet.
By James Woolley Sons & Co. Ltd, Manchester. Comes with three glass internal shelves, a working door lock and key, and nickel plated fittings. Original paint.
It's rare to find these not stripped and burnished these days so we don't expect this one to be with us long….
Dimensions: 164cm (64½") High, 72cm (28¼") Wide, 46cm (18") Deep
To buy this please call in at the shop in Maltby St or call 0207 394 8061