We are shocked and saddened to hear of the death of Dr Edward Haughey, Lord Ballyedmond in a helicopter crash yesterday near his home in Norfolk. Dr Haughey was a regular LASSCO customer  – a rubicund and congenial latter-day Hearst he would fall upon our most grandiloquent stock in the manner that might be expected of the shrewd and accomplished businessman that he was – a sideways glance and a slightly dismissive sniff – a "What's your best on that?" and move on.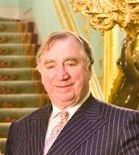 Notwithstanding the massive purchases he made for the many glorious decorative schemes that he had in "his mind's eye" he was always a delight to deal with – courteous, cheerful and generous to a fault.
Surely his most significant purchase must have been the balustrades of Westminster Bridge – the Wordsworthian link to the River Eden that flows beneath his Corby Castle in Cumbria might just have been in "his mind's eye" – very sadly we have lost a Salvage Medici.
Our profound commiserations are extended to his bereaved family.