From the 17th to the 19th century trips around the European circuit influenced the homes of the wealthy. Lisa Brown's article in  February's Period Living: 'The Great Escape, Classical Decorating Schemes Inspired by The Grand Tour', shows you how to get this look with a subtle palette, toile fabrics and classical style pieces.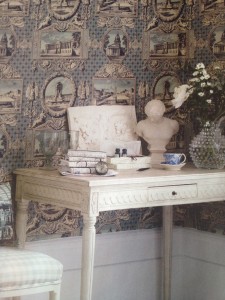 The article includes work by Master Plaster Caster, Peter Hone.  The open scroll frieze (pictured above on the table) and the Madonna oval plaque  (in the top image).  LASSCO Three Pigeons has not just these in stock but a large range of Peter's superb creations, to peruse this please click here.  For details on the plaster Madonna plaque  click here and for the open scroll frieze here.
Other items required to get this look can also be sourced at LASSCO: including  busts, prints and chandeliers.