LASSCO is delighted to welcome "Dreweatts Bloomsbury" to our landmark premises in London to stage our first ever auction of Architectural Antiques. A broad cross-section of stock from our three shops, much from prestigious provenances, will go under the hammer THIS SATURDAY on 15th June at Brunswick House. It represents a fabulous opportunity for our customers to bid from a low start for our wonderful acquisitions. View the catalogue here.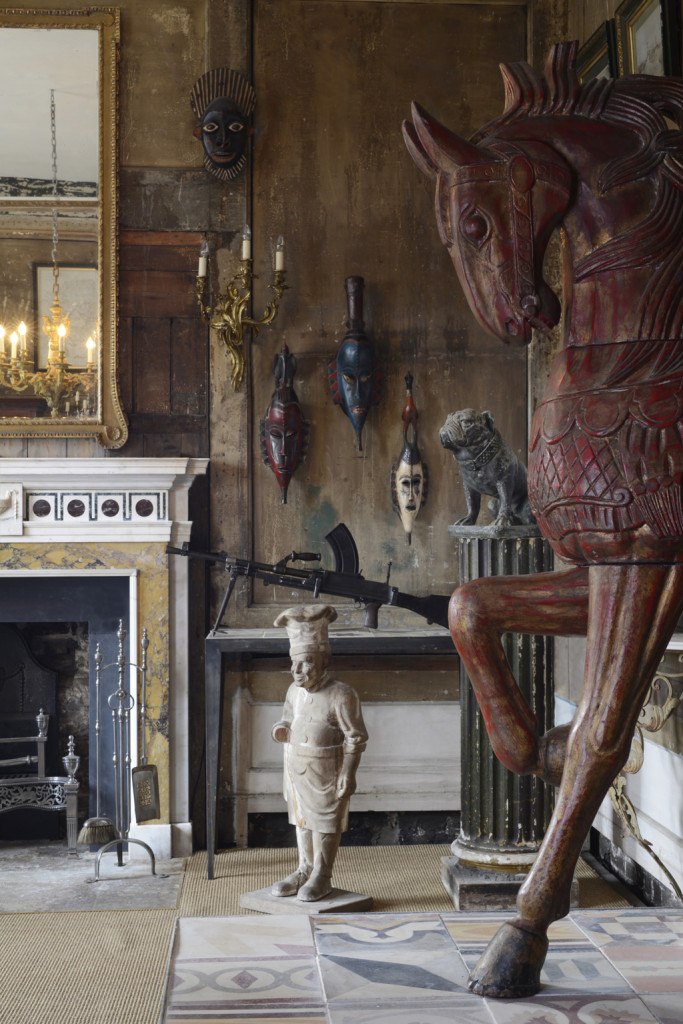 LASSCO's origins, its history, the auction and the company's future is explained in the catalogue introduction:
LASSCO was established at St Michael's, Shoreditch in 1977, successor to the old established East End firm of Geo. Amos & Sons. Its founder, Adrian Amos, grandson of the eponymous cabinet maker and saw doctor, is now handing over to the next generation: his sons, Harry and George, and the directors of the firm's three branches, Bermondsey, Vauxhall and Oxford, Nick Newman, Ferrous Auger, Chris Martin, Tom Hart and Anthony Reeve.
The company has been at the forefront of the Architectural Salvage trade well before its inception, adopting the term soon after it was coined by Dan Cruickshank in the Architectural Review in 1978.
The roll-call of noted clearances and demolitions from which LASSCO [The Architectural Salvage & Supply Co.] has sourced its material include The Tower of London, Buckingham Palace, Windsor Castle, The Baltic Exchange, the Lloyds building, the Dorchester Hotel, the Savoy, Claridges, Connaught and virtually every other Grand Hotel of note; The Palace of Westminster, the much lamented St Stephen's Club, The East India Company Warehouses at Cutler Street, St Katherine's, the Royal Docks – Harrods, Debenham & Freebody's, Waring & Gillow's, Harvey Nicholl's – and Woolworth's – the V&A, Natural History Museum, Wallace Collection, British Museum, National Maritime Museum, Ashmolean Museum, Hunterian and so on – the Stock Exchange, Mappin & Webb in The City, every bank demolition in the past forty years, Lazards, Barings, the Corn Exchange; St Pauls, Westminster Abbey – and Cathedral, St Mary-le-Strand, a good dozen St.George's, and so many City Churches …… even Canary Wharf.
Modernist factories, Edwardian Baroque, Victorian Pubs galore – the works of William Chambers, Robert Adam, William Morris, Barry, Pugin, Nash, Soane and countless lesser known or forgotten architects and designers – country oak and vernacular elements … not surprisingly every item has a past and LASSCO has become the institution of recourse when historic material is to be disposed of.
The discoveries it has unearthed [often quite literally] have been confirmed by assiduous research and a deep knowledge of architectural, and London's, history. From enormous piles dug out from Billingsgate's Roman Wharves through medieval doorways, to lost works of the Great Architects of the 18th Century, to exiled Parisian boiseries, to unappreciated relics of 20C style – the LASSCO stock is History manifest and reclaimed.
Key to the survival of LASSCO over nearly forty years, has been its ownership of the freehold of its buildings – all historic, characterful and cunningly located in accessible and developing areas. Shoreditch in 1977 was a byword for decay. Brunswick House in Vauxhall was squatted and derelict when bought by LASSCO.
Vauxhall is now going through a remarkable renaissance – and the survival of this elegant Georgian mansion amidst the gargantuan towers, both built and consented, on one of the busiest traffic intersections in Europe, is little short of miraculous.
This Sale will offer some very unusual survivals, within one of London's most astonishing survivals by a firm that intends to survive in the same old trade for years to come.
View The LASSCO Auction catalogue here.
The LASSCO Auction: Ornament, Curiosities and Relics of Old London      
Saturday 15 June 2013, 10:00am at Brunswick House , 30 Wandsworth Road, Vauxhall, London SW8 2LG    
On View at Brunswick House:
Sat. 8th June 9.30 am – 5.30 pm,
Sun. 9th June 2013 11.00 am – 4.00 pm,
Mon. 10th June 9.30 am – 8.00 pm,
Tues. 11th June 9.30 am – 4.30 pm,
Wed. 12th June 9.30 am – 8.00 pm,
Thurs. 13th June 9.30 am – 8.00 pm,
Fri. 14th June 9.30 am – 8.00 pm