Marc  Kitchen-Smith who sources, repairs, renovates and restores artefacts of the past to give them a new lease of life and purpose launches at LASSCO Ropewalk on Thursday. This former  licensed mudlark, pop video director and  author  (Urban Chic: Resourceful Styles for City Spaces) is now a fully fledged  Purveyor of Delightful Objects.
'I love the 'thrill of the hunt' for the unusual and unexpected. When I spot an item that I have an instant rapport with, I know it is a worthy addition to my stable of 'delightful objects'. I think that the natural instinct I have for buying has its roots in my former art and design background; I source objects based on their aesthetics, whether it is colour, texture or form. On other occasions, I buy something just because it makes me smile.'
Have a look at his blog and  Twitter feed to see more of the variety and style of stock Marc sells through LASSCO. Or better still pop along to LASSCO Ropewalk and see for yourself the wide variety of furniture and 'delightful objects' that he's selling there.  If that's not possible and you live nearer to Oxford he has stock at the Three Pigeons too.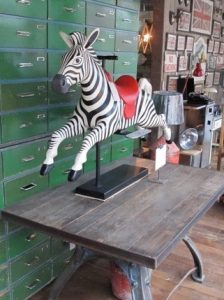 Blog: http://mkitchensmith.blogspot.co.uk/
Twitter: @mkitchensmith