LASSCO has had working relationships with numerous small workshops and specialist craftsmen over the years. Perhaps the longest association is held with Paul Clayton: last of the gas lantern makers.
Paul's house is hidden in a Hertfordshire market town – up the end of a cobbled mews. The archway into the mews is too small for our van so we have to walk the lanterns to and from the street, often pushing them in a wheelbarrow. Decrepit lamps with twisted, dented, corroded bodies go one way; gleaming, polished and re-wired beauties are gently carried the other. Paul's family are often enlisted to help.
The route through to the workshop is via the garage – you have to thread your way through piles of materials, books and useful ironmongery; the rafters are hung with bundles of clobber, pipes, metalwork, tools, bags and clusters of wiring. Underneath it all, buried and untouched for years is a dusty Alvis motor car – a restoration project that Paul has "never got 'round to". In the courtyard garden are planted a dishevelled collection of lanterns in various states of dismemberment or crisis. Paul points out some "London Circulars" consigned to him for restoration by a local authority; they appear to have been victim to a steam-roller incident. Paul explains that a reversing truck can make short work of an old street lantern.
The workshop is found within the garden shed. It is a bit gloomy but very peaceful. Again there are bundles of metal hanging from the rafters but here there is more of a sense of order and industry. Lanterns are reduced to their component parts. They are joined by gleaming new copper components, cut, braised, folded, filed and fettled – ready for re-assembly.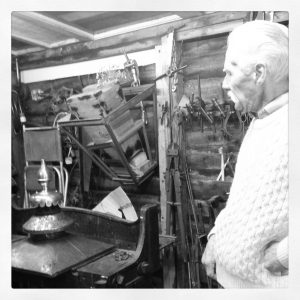 Standing between his bench, vices and polishing wheels Paul talks quickly. He drops into a lantern-maker's vernacular, rattling through a litany of "the spinnings", "the tent" and "chair-iron" with the confidence of a true expert. He can show you the difference between a "Kempton", a "Suggs" or a "Foster & Pullen" and speaks with reverence about the "Edgar" that I'd brought for him last time. "William Edgar & Son of Hammersmith were one of the best workshops" he enthuses "you'll only find them in the best addresses too, rare: look at the lamp-lighters trap-door" and he shows me the base of the lantern with a little glazed portal design specifically to fit the lamp-lighter's pole, and the catch – enabling it to snap shut. His enthusiasm is quite infectious. The lantern is a couple of weeks from completion.
If Paul doesn't have the corresponding part to transfer from a lantern wreck, he makes it. The stanchions and finials, crestings and hinges have a particular pattern that he faithfully replicates. For the lantern bodies he still works on the original Victorian jigs he acquired from G.H. Kempton & Co.using the same grade of heavy-gauge copper that they would have specified. The firm, like so many, ceased trading in the 1970's by which time Paul was one of only four lantern makers there; he went it alone and perhaps is one of the only lantern makers from the numerous original London workshops still with a bench.
While much of his work is restoring old lanterns, Paul has long made LASSCO's superb range of hand-made, scratch-built "Winsor" and "Stable" lanterns for us. He also supplies the Crown Estates for their palaces and parks. His lanterns are made to traditional patterns to endure the worst of British weather. Correctly proportioned and robustly built they will last for many decades.
Long may his specialist work continue, but, twice on this visit, he complains of "getting old" and each time I remind him that he should have an apprentice in order to pass on his knowledge and skills. Paul mutters something about "Not having the bloody time" and makes his way back through the garage to put the kettle on, "… that last one was heavy, we should've used the wheelbarrow".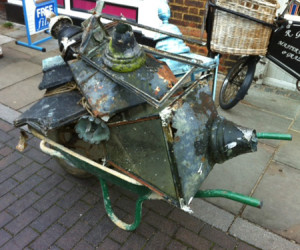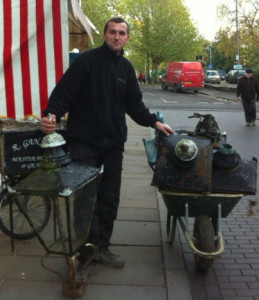 AR
See Paul's restored lanterns at LASSCO Three Pigeons:  three examples 42475 23255 42476