With the US Embassy committing to their plans to relocate from Mayfair to Nine Elms – right next door to LASSCO Brunswick House – there has been a rash of reporting on what is to become of the area. Brownfield site clearances and hoardings now line Nine-Elms Lane.
"Vauxhall Tower" or "No1 St. George Wharf" can now be clearly seen, along with The Shard, from vantage points well outside the capital, which, given that it is 181 metres (594 ft) tall, at 49 storeys  the tallest residential building in the UK, is perhaps not a surprise! The Tower is directly next door to Brunswick House. Soon it will be joined by other skyscrapers, as reported in the Architects Journal at the beginning of last month. The "Vauxhall Cluster" is to have a 32 storey tower designed for Downing Developers by Fielden Clegg Bradley Studios which adds to the race upwards – the brace of towers at a similar height by Michael Squire were reported in The Evening Standard in August.
Rowan Moore, in Sunday's Observer (11th November 2012), warns that a co-ordinated design process between the different parts of the development must be encouraged or an opportunity will be lost: it appears that he may be too late for such joined-up thinking. Read his full article here.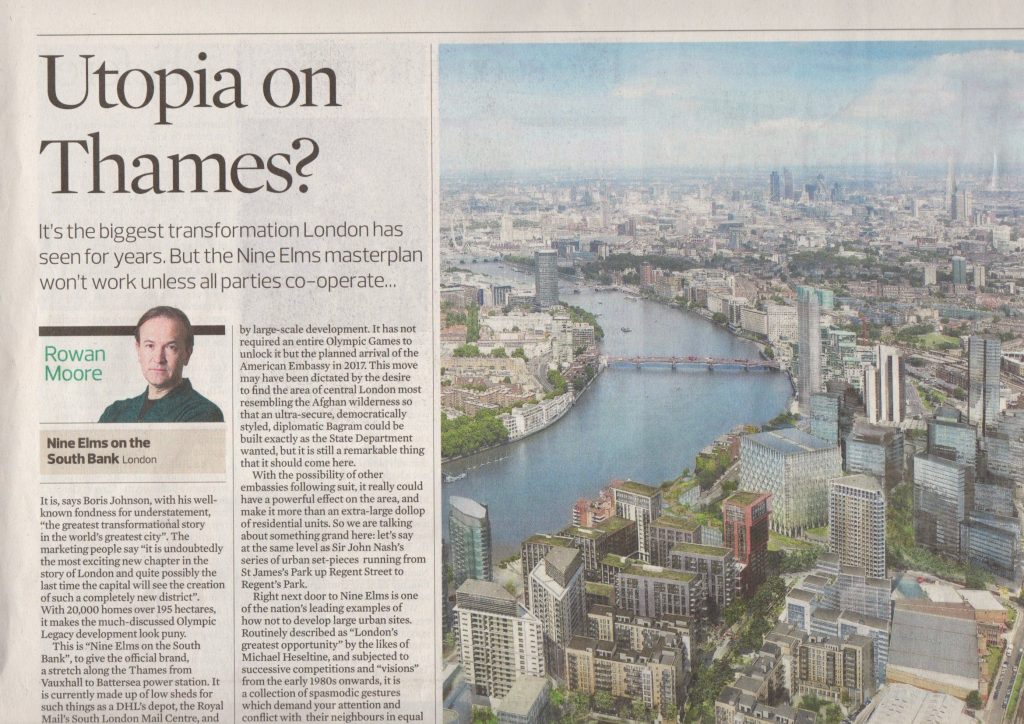 Moore's piece follows the commentary from Lucy Warwick-Ching in the Financial Times on 26th October who notes that,
"The vision conceived by the 26 separate developers involved in this huge regeneration plan across 481 acres is nothing if not ambitious."
Nearby residents associations are despairing at the scale of development that has been granted.
Amid the glass and steel stands Brunswick House, LASSCO's home. Its handsome five-bay pedimented frontage has borne witness to Vauxhall's successive regenerations and deteriorations for 250 years already. When Brunswick House was built, the river, wider then, lapped at the jetty at the end of its garden. The garden was later lined with supper boxes for paying guests.
The house survived the demise of The Vauxhall Pleasure Gardens and the arrival of the railways that were to cut a swathe of viaducts across its southern aspect. It outlasted the Nine Elms Cold Store that loomed over its shoulder for decades and the squatters who daubed upon, and partied within, the walls that the railwaymen had abandoned. It will certainly appear as a lonesome, treasured, brick-built remnant of a long-lost Georgian  Vauxhall when all these towers are complete.
20th Nov: A little addendum: The BBC have just reported on how the construction of many of the consented high-rise towers in the City of London (i.e. The Square Mile) is currently stalled, including "The Pinnicle" where work has been stopped for the last six months. Watch the report here.