Jennifer Haslam shows how to use architectural salvage to make one's garden a gorgeous summer hang-out in July's 'Easy Living' Magazine. Choosing one of our series of mirrors, made from reclaimed industrial window frames dating from the 1930s, she  shows how they enhance the feeling of space and light in smaller gardens.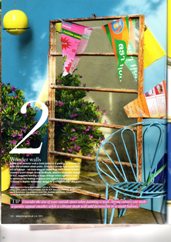 For more information on these mirrors please follow this link:
/?id=58&tx_evlasscoproductdetail_pi1[uid]=13723
Great that it's  our neighbours recycled bunting  that's being used as decoration as their online business, Hen & Hammock, is literally in the next village!