The Friends of Friendless Churches is a worthy organisation that campaigns for and rescues redundant historic churches threatened by demolition and decay. They do keep an eye out for noteworthy church artefacts that should, by rights, be kept in their intended contexts and find  appropriate homes for them.
We are delighted that "The Epiphany" by Rupert Corbould which LASSCO salvaged from St. George's Church, Perry Hill (S.E.London) some years ago, was plucked from its uncertain future by The Friends and has been placed on a long-term loan at St. Mary's Church Woodbridge.
From St. Mary's website:
"Bishop Nigel came to Woodbridge on the Feast of the Epiphany to bless and re-dedicate Corbould's painting of the Epiphany and to rename and dedicate the little side Chapel to The Epiphany. The Rector, Revd Canon Kevan McCormack, expressed the joy of the congregation that we had been given the guardianship of this lovely painting, and thanked everyone who had made it possible … who between them performed the miracle of getting this enormous work through the tiny doorway of the Chapel and successfully displayed on the wall above the altar."
The demolition of St. George's Perry Hill was a tragic undertaking given what a fine church it was.
Rupert Corbould 1866-1927(?), a pupil of Alfred Hemming from 1885 and a Fellow of the British Society of Master Glass Painters, had dedicated a large part of his career to the ornamentation of St. George's alongside Percy Mason. The Rose window was a particularly fine example of Mason and Corbould's stained glass.
Corbould executed two paintings on the walls of the church: "The Annunciation" and this "The Epiphany". (He also completed a "Stations of The Cross" series which had hung in the church until the outbreak of war. Perry Hill was in "Bomb Alley" and very much in the firing line of V2 rockets so the paintings were stored for safe-keeping in the bell tower. They were later stolen). LASSCO dramatically saved the two remaining paintings – stuck to the walls – as the building was coming down. We sold The Annunciation to a private buyer.
Other than his celebrated stained glass we don't know of any other paintings by Corbould – although his may be the series of Baptism paintings in St. Mark's Croydon.
At St. Mary's the painting is evidently in good hands.
From Here: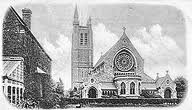 Via Here: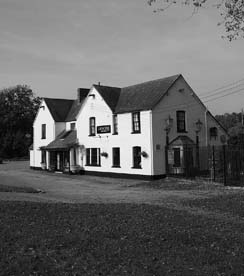 To Here: