National Geographic Channel (UK) is currently screening "The Reclaimers" at the weekends. The twelve-part series was originally broadcast by the BBC six years ago and features LASSCO in various stories through many of the half-hour programmes. Much footage was shot at our former shop at St. Michael's Church, Shoreditch – prior to our big departure to The Three Pigeons in Oxfordshire.
The programmes are been shown around midday on Sundays in pairs (repeated at midnight). This weekend look out for Tony and Jesse (no longer with LASSCO) as they sell one of the monster British Library tables to Liberty's for it to be winched up through their central atrium to the top floor.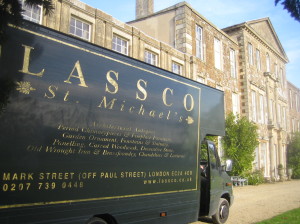 If you want to see some of the LASSCO staff looking even more youthful(!) there's a well-worn edition of Grand Designs still doing the rounds. Here the LASSCO St. Michael's shop is featured again in our bid to restore a smashed Regency marble fireplace and re-instate it in a Georgian house restoration in Islington. It has been shown many times in the past ten years – the sign-writing on that particular van has paid for itself many times over!