LASSCO Three Pigeons is surrounded by fabulous Oxfordshire countryside and this week we can report that the trees are looking at their autumnal best. So, if you missed New England in the Fall this year (blanketed in snow at the weekend apparently!), then treat yourself to lunch at LASSCO Three Pigeons and walk it off shin-deep in fallen leaves. Winter is coming.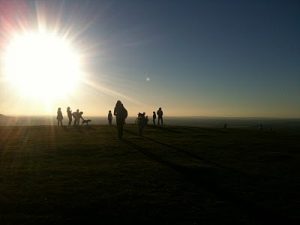 You can't do better than the Ridgeway above Prince's Risborough where you can combine a bracing walk through the beech, ash and oak and emerge, on occasion, atop the Chiltern escarpment with a breathtaking panoramic view from the Vale of the White Horse off to the left and across to the Aylesbury Vale away to your right.
Incidentally, these very woods are the birthplace of this region's famous chairmaking industry. For 200years the celebrated furniture was made from beech, ash and oak in The Chilterns – and is regularly available at LASSCO.  On Whyteleaf Cross Hill alone you'll find the odd Iron Age barrow, a huge chalk cross carved into the hill,  some training trenches dating to the First World War and you are guaranteed to get Red Kites hovering above the escarpment.
Click here for a Map to Whyteleaf Cross Hill – but it is an "Area of Outstanding Natural Beauty"  – so you can't go wrong.
From the M25 LASSCO Three Pigeons is a 25minute drive up the autumnal M40 and only 55minutes from Notting Hill.
Lastly, before you head-off from LASSCO, ask Sam the chef to do you some cake in a takeaway box to eat while you enjoy the view.
***
LASSCO Three Pigeons, Milton Common, Oxfordshire OX9 2JN Tel: (01844) 277185, Open Mon-Sat 9am – 5pm
Click here for our Directions page