John Lanchester gives a glowing review for Brunswick House Cafe in today's (Saturday) Guardian Magazine! Not one to pull his punches as a restaurant critic Lanchester lays on the compliments for LASSCO's resident chef Jackson Boxer and his team. Read it in full here.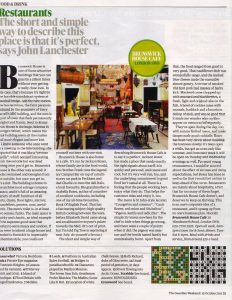 Lanchester enthuses with paragraphs like this:
"The short and simple way of describing Brunswick House Cafe is to say it is perfect. Jackson Boxer has made a place that sends exactly the right signals about itself: it is quirky and personal, and casual and cool, but it's very well run, too, and the underlying commitment to good food isn't casual at all. There is a feeling that the people working here enjoy what they do. That helps the customer relax and enjoy it, too."
He makes comments like this:
"the food ranged from good to very good"
makes mention of the:
"dangerously good cocktails"
and finishes with this:
"Restaurants are mainly about hospitality, a fact that far too many of them forget. Brunswick House Cafe doesn't, and deserves to keep on thriving. This is no one's corporate idea of a restaurant, and it sprang up from no one's business plan. Hoorah!"
Compliments to the chef indeed!