Master Plaster Caster Peter Hone has his extraordinary flat featured in today's The Times Magazine (Saturday 16th June 2012). For half a century he has lived in his West London apartment and in the article he shows it to Vinny Lee. Peter has recently given our own "telephone repeater station" here at LASSCO Three Pigeons a similar treatment – his beautiful casts thickly adorning the walls inside and out. The building has been dubbed "The Hone Exchange".  His work is for sale and much of it is now on our website here.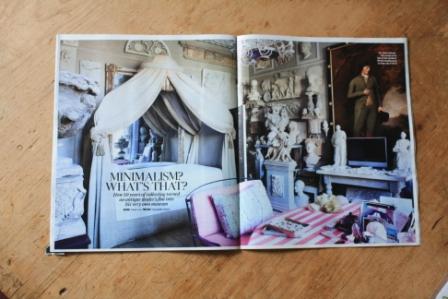 Peter and his enthusiastic dog Basil are often to be found at LASSCO Three Pigeons as Peter makes his exacting adjustments to the never-complete display. He makes his wonderful casts in the middle of the gallery.
The Hone Exchange is becoming an Oxfordshire landmark. See some fantastic photographs of it here within Charlie Lee-Potter's blog.  Peter's casting seems to have inspired her Pannacotta.
We are delighted to have the Hone Exchange up and running as both a gallery and a workshop and share in Peter's knowledge, eye and enthusiasm.