Archived Stock - This item is no longer available
A set of ten Edwardian cast-iron terrace urns,
Removed from Parkstead House, Roehampton
each of squat campana form with a fluted body and everted rim, raised on a rusticated bowl, waisted socle and square-section plinth and pedestal, old paint finish,
SOLD OUT
Out of stock
Parkstead House is the fabulous Palladian Villa built for the 2nd Earl of Bessborough in the 1760's – designed by Sir William Chambers. Formerly known as Bessborough House, then Manresa House and despite a near miss from a World War II bomb and the later incursion of 1960's tower blocks into its estate, it survives: with a fine frontage, glorious ceilings and fireplaces. It is now home to the University of Roehampton.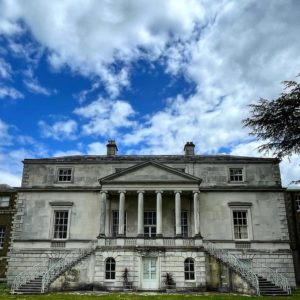 This set of ten urns were acquired for the house in the late 20th Century by Nicky Haslam who has family connections to Bessborough.
The urns have a clever design – they slot together in component parts – the body with a siphon into the bowl below – the bowl, with its own over-flow, acts as a reservoir to help prevent the planted-up urn drying out.