Go and tread the boards at the new Sonos Studio in Shoreditch – a great project that we were very pleased to have been involved with.
Sonos are pioneers of smart wireless HiFi speakers and audio components. Their system unites your digital music collection in one app that you control from any device. Two weeks ago, in Shoreditch, they opened their second permanent Sonos Studio space; the first opened in Los Angeles in 2012. They have built a unique, acoustically tunable space where anyone can go to hear music as it should sound and where artists can experiment and share new ideas.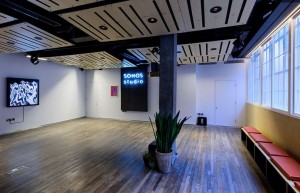 We were delighted to supply salvaged flooring for the project where, from the outset, the designers were interested in timber, and other fixtures and fittings, that might have an historical connection with acoustics and sound. Their timing was good – we had just filled our warehouses with the reclaimed oak flooring removed from Bush House … home of the BBC World Service from 1942 to 2012.
The oak floors of Bush House have been silent witness to countless short-wave wireless broadcasts across the globe, in a broad spectrum of languages, for seven decades. The people at Sonos loved this notion in their re-use of the timber.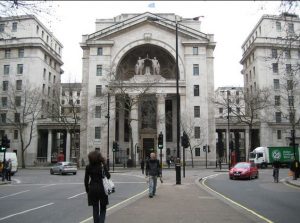 At Shoreditch, the new gallery and performance space, situated over both of the Studio's two floors now host a constantly evolving series of exhibitions, performances, screenings and talks. It has been designed to deliver the best possible listening experience in every environment. Movable elements in the ceilings and walls allow producers to create an ambiance and sound to suit different acoustic needs.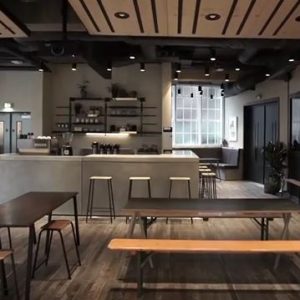 Stephen Cheliotis of "The CoolBrand Council" cites the Sonos Studio London launch as one of the factors behind Sonos retaining their Top 20 place in the new Cool Brand rankings:
"The brand shows innovation and authenticity through the launch of its second flagship studio in London… The Sonos Studio in the hip Shoreditch neighborhood of London is a public space where people can go and collaborate, listen to music or attend workshops and masterclasses, among other events and galleries the space holds."
Harry Amos of LASSCO, pretty cool himself, features in a short film about the creation of the Studio:
Sonos Studio London's listening rooms, gallery, café and workshop are open six days a week from Tuesday to Sunday, 10am – 6.30pm Sonos Studio LDN. 21 Club Row, Shoreditch, London E2 7EY
LASSCO always has fabulous sources of reclaimed timber arriving daily – a summary is found here. The ever-changing stock is available at LASSCO Ropewalk in Bermondsey and LASSCO Three Pigeons in Oxfordshire.