Adrian Amos, LASSCO Chairman writes:
"One of my earliest memories was being shown Spiegelhalter's by my father, Sid Amos, in the mid 1950s. He pointed it out as a 'sod you' phenomenon – the 'independent trader' against the powerful and corporate – hubris with built-in nemesis. Spiegelhalter's was dear to the heart of every small businessman in the East End particularly as the old jewellers survived for years longer than Wickhams. Regrettably both institutions, each with roots in early 19th C Mile End, are no more, but the 'David and Goliath' implications made manifest remain delicious. A petition to save the original little shop is here. "
We urge anyone, particularly any who can exert influence to save Spiegelhalter's to join the campaign.
Rowan Moore is similarly upset: (Read his complete Guardian column here).
"Another architectural survivor is under threat. That is a former jewellery and clockmakers' shop in Mile End Road, east London, owned in the 19th and 20th centuries by the Spiegelhalters, a family of German descent (who, unusually in this area at that time, were not Jewish). In the 1920s they refused to let their two-storey building be engulfed by the building of Wickhams department store, whose grand Ionic colonnade was modelled on Selfridges. It also has a central tower, as was proposed but not realised for the Oxford Street store. But, if Wickhams got one up on its inspiration in this respect, it couldn't beat the Spiegelhalters.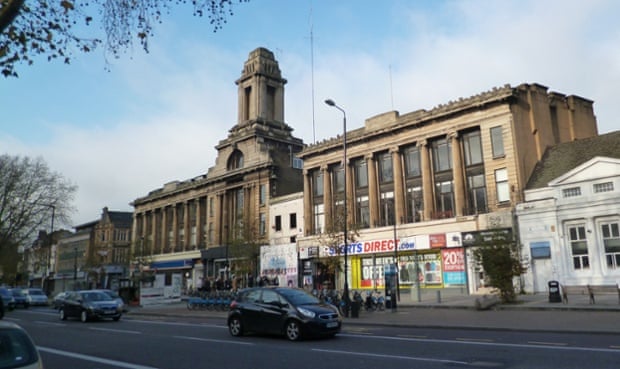 The result is colonnadus interruptus, a wonderful document of the human spirit, a physical record of the pressures and conflicts that make a city. The columns start their confident march across the façade, then stop for the little shop as if for an old lady crossing the road, and start again. It makes the building far more remarkable than the dull and pompous thing it would have been if it had got its own way.
Now there are plans, by the developers Resolution Property and the architects Buckley Grey Yeoman to make Wickhams into "Dept W", a "modern Technology, Media and Telecommunications office space". The little shop is finally to disappear. Instead "sculptural shards will be introduced to create a bold, new public entrance." The new entrance, with rust-coloured planes looking something like a Richard Serra sculpture, will be "a new vibrant heart of the redevelopment, as homage to the Spiegelhalter story." The architects have said that "we think it can be done in a way which makes the gap even more meaningful, to make it into an art piece which tells the Spiegelhalter story on its surface."
I'm sorry, but it doesn't. Nothing could be more eloquent than what is already there. There is no compelling reason to remove what's left of the old shop: it wouldn't, for example, stop the developers having as much office space as they want. The main motivation for removing it seems to be the architects' desire to play at being artists, which is almost always a bad sign, and to create something "vibrant", which is even worse. Perhaps the developers also think that this little remnant is too humble for the swanky new place they want to create. If so, they are misguided: why, when you are in possession of a unique architectural incident, one of the most remarkable in London, would you want to destroy it? Sometimes good architecture is about knowing when to hold back, and this is one such occasion.
[This oddity is…] part of what makes cities like London … worth living in. Keeping [it] does not stand in the way of the new; it only makes the new more interesting."
… and The Gentle Author at "Spitalfields Life" adds to the campaign here.
PLEASE SIGN THE PETITION HERE!