When Len Deighton was writing "SS-GB" in 1978 – his spy-thriller set in the 1940's and in a London that had succumbed to Nazi invasion – he would have relished the foggy railway yard and bleak urban landscape that Nine Elms then was: a setting for a gritty denouement.
Deighton, the celebrated historian, cook and author of classics such as "The Ipcress File", had worked as a clerk for the railways in his youth and we are wondering if he was then familiar with the Nine Elm's Goods Yard – the massive rail freight depot that left Brunswick House (today LASSCO's London shop) marooned in an industrial wilderness for a dozen decades. We're wondering because Brunswick House is featured in "SS-GB".
"Douglas climbed into the sidecar and gave the rider a nod. Then he had to hang on tight to the machine-gin mounting, as they roared down Grosvenor Place with noise enough to wake half of London.
In the air there was the green sooty fog typical of those that London suffered, but the rider did not slacken speed. A gendarmerie foot patrol was marching through the Victoria railway station forecourt but they ignored the SS motor-cycle. The fog was worse as they neared the river, and Douglas caught the ugly smell of it. After Vauxhall Bridge, the motor-cyclist turned right, into a street of squat little house and high brick walls, and advertisement hoardings, upon which appeals for volunteers to work in German factories, announcements about rationing and a freshly pasted German-Soviet Friendship Week poster shone rain-wet through the fog.
Once on the south side of the river the motor-cyclist parked in a hastily constructed official compound – no more than a section of the street surrounded by coils of barbed wire and sentries – outside an ugly little building marked "Brunswick House, Southern Railway". The fog was much thicker on this open land that extended down to the warehouses and granary on the river-front…"
"Outside the house, rigid as statues and oblivious of the swirling fog, were two SS sentries, complete with the white gloves and white belts of a ceremonial guard. The rider went with Douglas as far as the door of the house…Douglas had never been here before – Nine Elms, one of the largest freight yards in Europe. It was a desolate place, the ground strewn with debris …"
"Ugly little building"?, "UGLY LITTLE BUILDING"?! … Len Deighton, how could you?! Dating to 1752, Brunswick House is the only remaining Georgian villa in Nine Elms – and a large and handsome building it is too! In 1978 the perception of Georgian architecture was pretty much at its nadir? Perhaps everything south of the river was deemed small and ugly in the 1970's?! We'll have to let Mr Deighton off though – it is a fictional tale he was writing. We can nevertheless confirm that Brunswick House is not, and has never been, infiltrated by the SS and that these days any sentries outside are in fact likely to be statues!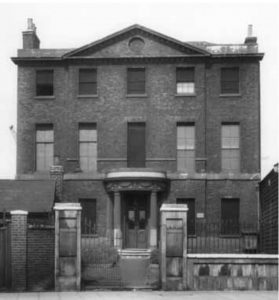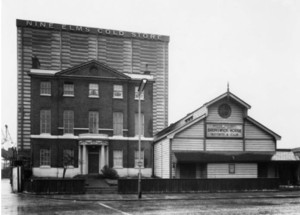 LASSCO's shop in Oxfordshire also appears in a work of fiction: in Will Self's "Grey Area": Click here for the background to that one – previously published on this blog. (Will Self has also written a piece about The Nine Elms Cold Storage depot that was behind Brunswick House from around 1963-99).
Thanks to Stefan Lorett, LASSCO's Projects Manager who, apoplectic(!), spotted this reference to Brunswick House in the Deighton thriller.