George Powell, 22nd February 1958 – 26th June 2013
A sad loss to the London Architectural Salvage trade.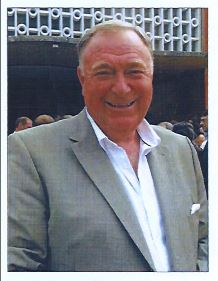 George Powell was one half of an institution of the London Antiques Trade – 'George 'n Billy'. In a tribute given at George's funeral, that distinguished member of the Trade, Nigel Bartlett, confessed to first hearing that as 'Georgian Billy' – perhaps an obscure piece of period fireplace furniture.
A 'monumental personality' at well over six foot in his polished brogues and flat cap he could summon up a very useful but affable menace – his dealing abilities were matched by his unerring eye for significant finds. When asked what he would most like in his last days the answer came "to find another Adam fireplace!"
In a moving eulogy by his wife, Helen, she speculated as to whether the Pearly Gates would be in place when he got there – or had George already done a deal with St Peter?
He was known and enormously respected, and held in great affection, throughout the Trade – George never wasted your time with trifles – his appearance in our premises almost always heralded the offer of something worthwhile – more often than not, rescued from a Mayfair demolition site and, were it not George 'n Billy's judgement, it would have ended up in landfill.
Quite often at funerals one discovers aspects of the deceased that come as a surprise … it was no surprise to hear that this big jovial man was a 'rock' for his family, a good, loving and supportive father – and enjoyed the love and admiration of so many friends. That he was an irreplaceable character and an adornment to London Life is undeniable.
A South Londoner 'sans pareil', following his rhyming slang was often challenging and his sense of style went beyond his apparel and his comportment – he personally selected his final resting place overlooking the South Downs in an idyllic Sussex graveyard where he was buried on Wednesday 10th of July 2013 in glorious Summer sunshine.
Our profound sympathies go to his widow, children and family – from all at LASSCO.