What a day it was! We certainly shifted vast quantities of stock on the first ever LASSCO auction. We were very happy with the event that saw some impressive prices on some lots. Some surpassed our erstwhile retail prices. Others were snapped up for a song. We were thrilled to see delighted buyers, including many new faces, getting stuck into bidding and enjoy the thrill of the chase!
The Antiques Trade Gazette reviewed the sale as a full page feature. They were quite effusive describing LASSCO as a "heaven for house designers", " a veritable Valhalla for buyers who love a wide and eclectic choice".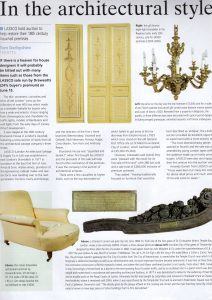 You can watch a short film of the event here.
Salvo has published an Auction Review here entitled "China and Japan buy London's relics at Vauxhall sale".
Perhaps most gratifying of all was an email from the buyer of the carved Temple Bar cresting by Christopher Wren who emailed us after the sale simply to say:
"I'm absolutely thrilled to now be a custodian of a piece of our capital's great history." – a notion that we subscribe to wholeheartedly!