Join us on Thursday, 20 September 2012. Paul Williams is coming to LASSCO Three Pigeons to give an evening talk. He is the second in our series of luminaries. He will demonstrate how to plant containers for interesting, as well as long-lasting, displays to take you through the Autumn and out of  Winter.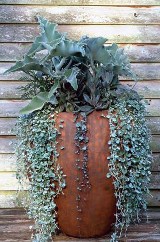 We are very pleased to welcome Paul,  former Head Gardener at Bourton House. He is a garden designer, consultant, broadcaster and also the author of several books including 'Creative Containers' and 'Container Gardening'. We hope you can join us to learn the tricks of the trade.
This will be  a practical demonstration with pots, plants, composts and quite a bit of mess!
Tickets are on sale NOW and are only £10 to include a glass of wine. Please come along at 6.30pm for 7pm start.
Contact: Amanda on 01844 277189 or email 3pigeons@lassco.co.uk.  If the ticket is a gift for someone please make Amanda aware.
If you have not been to LASSCO Three Pigeons before – we are only 45mins from Shepherd's Bush roundabout – please follow directions here.