Hot on the tails of John Lanchester's "Perfect"  Review in the Guardian comes Nicholas Lander from the Financial Times on Saturday (2011_11_12):
Quotes included "This place is Fantastic" from one of  his fellow diners.
Lander then begins,
"The menu is in keeping with the best young British relaxed approach to food. It is short, tersely written, comprehensive and fairly priced with no main course dish over £10."
He ordered for his table-for-five and went for "a mixture of starters and small mains", which,
"…packed terrific flavours. A strong venison and prune terrine alongside a more subtle dish of marinated mackerel with blackberries; four vegetable-based dishes: romanesco cauliflower with Berkswell cheese; beetroot, juniper and goat's curd; black kale and anchovy; and a macaroni cheese served inside half a squash. Finally, a hare and bacon pie alongside a bowl of spicy cuttlefish, chorizo and fino sherry. With very British desserts – quince and almond tart, lemon posset and a pear and chocolate pudding – and three bottles of particularly well-chosen and fairly priced wine my bill was £206 without service."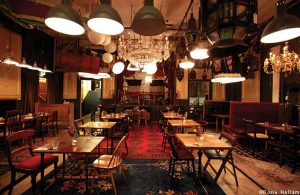 Lander introduces the Cafe's creator Jackson Boxer and enthuses,
"But most impressive for me was to watch Boxer, slight and dressed in black, working the room, delivering stylish service accompanied by an enthusiastic team, having created a restaurant with limited capital."
"I am sure the Duke of Brunswick would have been amused" he concluded.
***
The Sunday Times this weekend ALSO paged a review on Brunswick House Cafe in the supplement "Style".  Here another fabulous panoramic photograph of the interior – with a view from the other direction to the Financial Times – occupies half the page. On the rest A.A.Gill mustered his usual acerbic wit, also with a view from the other direction to the F.T.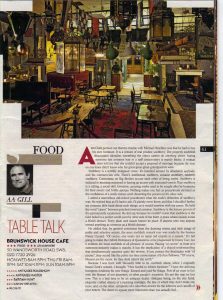 Unfortunately Gill was so intent on constructing a complicated triple-bluff on the subject of snobbery he almost forgot to review the restaurant at all. In the process he seems to reveal a penchant for buying his own furniture at Ikea as part of his "bourgois fondness for new things" and the bombshell that he is to inherit nothing that he'll want to keep.  So why, one wonders, does he head for LASSCO then? The answer comes at the end.
Even before he crossed the "rolling, clogged tarmac … of Vauxhall Bridge"  he almost confesses that he was making the trip solely to cock-a-snook at the "very favourable reviews in some of the finest liberal press".  This meant he was thereafter duty-bound to take issue with the general consensus including his poor companion Molly Dineen who, like the table-for-five across the way, found her surroundings "all rather wonderful".  Of course,  she may just have been trying to distract from Gill's paranoid ramblings about snobbery and snorting horseradish as a cure for cocaine or something.
Murdochs' man, having filed his polemic, was last seen heading back across the bridge towards Pimlico. Of course, he may have not stopped and ended-up in Wembley for some more flat-pack.