Anya Hindmarch, the celebrated designer of handbags, leather accesories, shoes and clothing thrilled London Fashion Week when she adopted the long mothballed "Strand" Tube station and made it her own last week.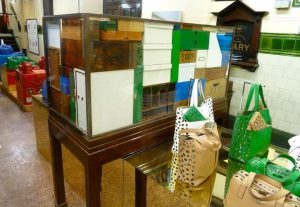 Central to the display were a brace of the mahogany and bronze cabinets that LASSCO salvaged from The National Maritime Museum. Anya and her team artfully filled them to the gunnels. The Deco styling of the cabinets seemed to make the them look completely at home in the old tube station!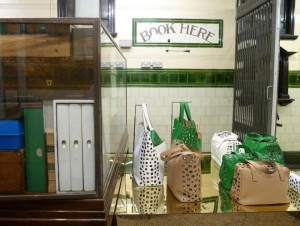 See more photos of Anya's wonderful "Lost and Found" tube kiosk on her Facebook page here
LASSCO has bought 135 of the National Maritime Museum cabinets (only about 60 left now!) and we have sold them to buyers in USA, Belgium, Japan, Scotland and Hackney. They have been put to all kinds of uses. Each was made to house a specific model boat from the national collection at the Museum's inception in 1937.  You may have seen a previous LASSCO eNewsletter (Subscribe to future LASSCO eNewsletters here) where they were used to display food sculptures at this year's  Royal Academy Summer Exhibition launch party.
It isn't the first time that The Strand tube station (more commonly known as The Aldwych until it was closed in 1994) has found stuff from museums being carted in. The platform and tunnels were used for the storage and protection of numerous artifacts from various public galleries during both World Wars.